Gavin & Stacey (Series 2)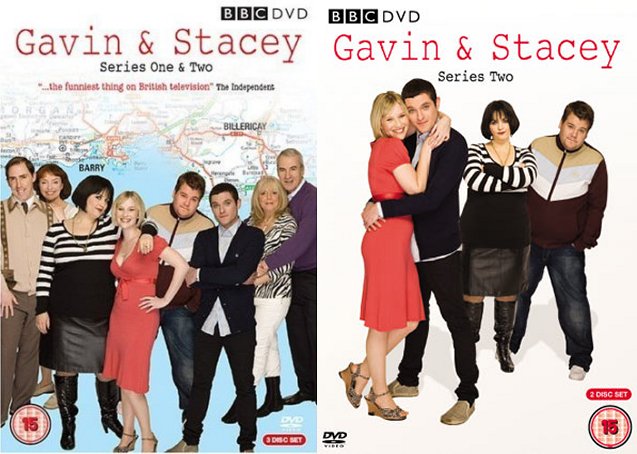 | | |
| --- | --- |
| Original Titel: | Gavin & Stacey (Series 2) |
Inhaltsangabe:
7. 2- 1 201 16 Mar 08 Kiss Kiss, Bang Bang
Gavin and Stacey come back from honeymoon trying to adjust to life as a married couple but will Nessa's revelation change things?

8. 2- 2 202 16 Mar 08 Season Two, Episode Two
Smithy finds out Nessa is pregnant and goes AWOL.
Can Gavin find him and persuade him to do the right thing?
Can Stacey adjust to living in Essex?

9. 2- 3 203 23 Mar 08 Season Two, Episode Three
Stacey is still adjusting to life as a Essex wife but perks up when when its time to go home to Barry
Nessa and Smithy see there baby for the first time

10. 2- 4 204 30 Mar 08 Series Two Episode Four
Gavin and Stacey start househunting while Mick becomes a minor celebrity for the night.
Nessa vists Stacey taking her bowling while tension between the newlyweds starts to bubble over

11. 2- 5 205 6 Apr 08 Series Two, Episode Five
Bryn has arranged a special treat for Gwens birthday but Bryn cant handle the pressure and Gwen starts to get suspicious.
Stacey tells Gavin a decision that will change there lives forever

12. 2- 6 206 13 Apr 08 Season Two, Episode Six
With Stacey stays in Barry, Gavin goes home alone to Essex.
Smithy takes Gavin for a boys night out while Stacey goes to the bingo but is the distance to much for the young couple ?

13. 2- 7 207 20 Apr 08 Season Two, Episode Seven
Stacey returns to Essex to sort things out with Gavin, but things are not looking good.
Over in Barry meanwhile. Nessa goes into labour a month early can Gavin find Smithy and get him to Barry in time or will they miss the birth ?

Sprache(n):
Untertitel:
Länge:
Minuten
Video Format:
DVD - Regional Code 2 - PAL -- 1 DVD(s)
Zusätzliche Informationen:
Season 2 von 2 aus der "Gavin & Stacey complete Edition"