Gavin & Stacey (Series 1)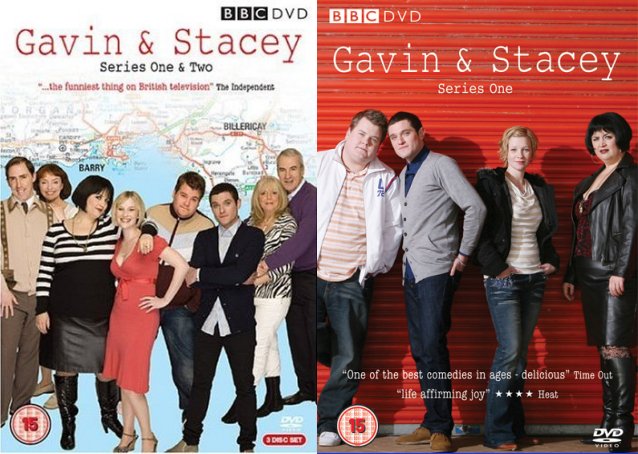 | | |
| --- | --- |
| Original Titel: | Gavin & Stacey (Series 1) |
Inhaltsangabe:
1. 1- 1 13 May 07 Episode One
Meet Gavin And Stacey. They've spoken on the phone for six months but never actually met until Stacey travels from Wales to London to meet Gavin.
Gavin turns up with Smithy who is skeptical about the whole thing and Stacey's mate Nessa who couldn't care either way, to be honest, and is more concerned about a night out.

2. 1- 2 13 May 07 Episode Two
Gavin and Stacey are happy and in love, until a phone call turns there lives upside down. Gavin decides there is only one thing to do drive to Stacey and tell her he loves her. However when he arrives Bryn is convinced he is a Jehovah's and wont let him speak.

3. 1- 3 20 May 07 Episode Three
Gavin and Stacey prepare to tell their friends and family about their surprise engagement. Gavin's parents are over the moon for while Stacey's family have some very big concerns over the announcement, and Smithy refuses to even talk to Gavin

4. 1- 4 27 May 07 Episode Four
Gavin and his family travel to Barry for a wedding fair. At the wedding fair Smithy is completely mesmerised by Jammy the stag do organiser (guest star Matt Lucas),Bryn totally sold on a magician for the wedding and Gavin has to decide whether to go with horse and carriage Stacey wants for the wedding or choose the Bentley instead.

5. 1- 5 3 Jun 07 Episode Five
It's Gavin and Stacey's stag and hen nights. Stacey's delighted when her brother Jason returns home but there's something happening with Uncle Bryn. Meanwhile will Gavin find out Stacey has been engaged five times before and will Nessa tell Smithy she may be pregnant?

6. 1- 6 10 Jun 07 Episode Six
It's Gavin and Stacey's wedding day, as the comedy comes to the end of the series.
Smithy attempts to deliver the greatest best man's speech, but it doesn't go quite to plan, while Pamela and Mick perform some unique karaoke.
Uncle Bryn is still acting strangely around Stacey's brother, Jason, but with Nessa acting the oddest of all will she spill the beans on her pregnancy?

Sprache(n):
Untertitel:
Länge:
Minuten
Video Format:
DVD - Regional Code 2 - PAL -- 2 DVD(s)
Zusätzliche Informationen:
Season 1 von 2 aus der "Gavin & Stacey complete Edition"