Per Anhalter durch die Galaxis & Das Restaurant am Ende des Universums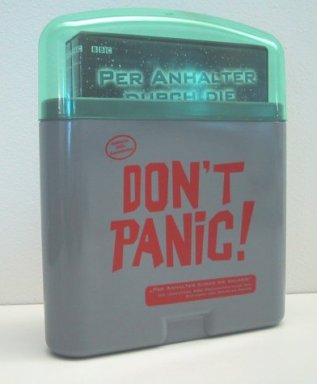 | | |
| --- | --- |
| Original Titel: | Hitchhikers Guide to the Galaxy, The & Restaurant at the End of the Universe, The |
Inhaltsangabe:
Arthur Dent, ein Durchschnittsbrite, wird von seinem Freund Ford Prefect, einem Rechercheur für den "Hitchhiker´s Guide to the Galaxy", kurz vor der Zerstörung der Erde durch die Vogonen gerettet.
Sie begegnen aus Zufall Fords Halbcousin Zaphod Beeblebrox und seiner Begleiterin Trillian, mit der er gerade die neueste technische Errungenschaft der Galaxis, das Raumschiff "Herz aus Gold", gestohlen hat.
Auf seinem Weg durch das Universum stellt sich heraus, daß die Erde nur ein von den Mäusen bestellter Computer war, um die letzte aller Fragen, nach dem Leben, dem Universum und dem ganzen Rest, auf die die Antwort 42 lautet, zu beantworten...